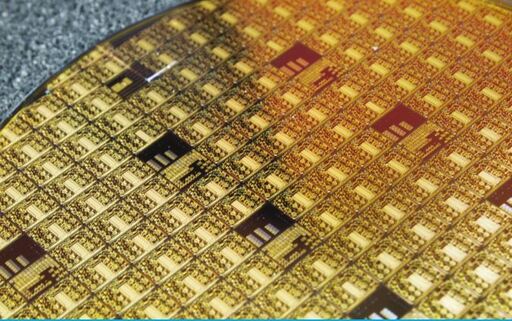 III-V Technologies
Alloys of the elements found in columns III (B, Al, Ga, In) and V (N, P, As Sb) of the periodic table of elements form a III-V compound. These semiconductors (such as InP, GaAs and GaN) are suitable for a wide variety of applications in high-performance radio frequency and optoelectronic devices due to their superior electronic properties such as high electron mobility, high saturated velocity and large band gap.​
MACOM's European Semiconductor Center portfolio focuses on microwave (uW), millimeterwave (mmW) and terahertz (THz) applications based on GaAs pHEMT and mHEMT and GaN HEMT technologies.
MACOM's European Semiconductor Center Processes
MACOM provides a diverse portfolio of processes using III-V materials. Dedicated to innovation, our team focuses on new technologies which deliver differentiated performance. The foundry offers GaAs pHEMT (EDA02AH, D01PH), GaAs mHEMT (D01MH, D007IH, D004IH) and GaN-on-Si HEMT (D01GH, D006GH) processes for mm-wave applications.
The majority of products in this portfolio are designed with processes that have been approved by the ESA or are currently in the ESA approval process. We follow design guidelines and requirements provided by the ESA.
.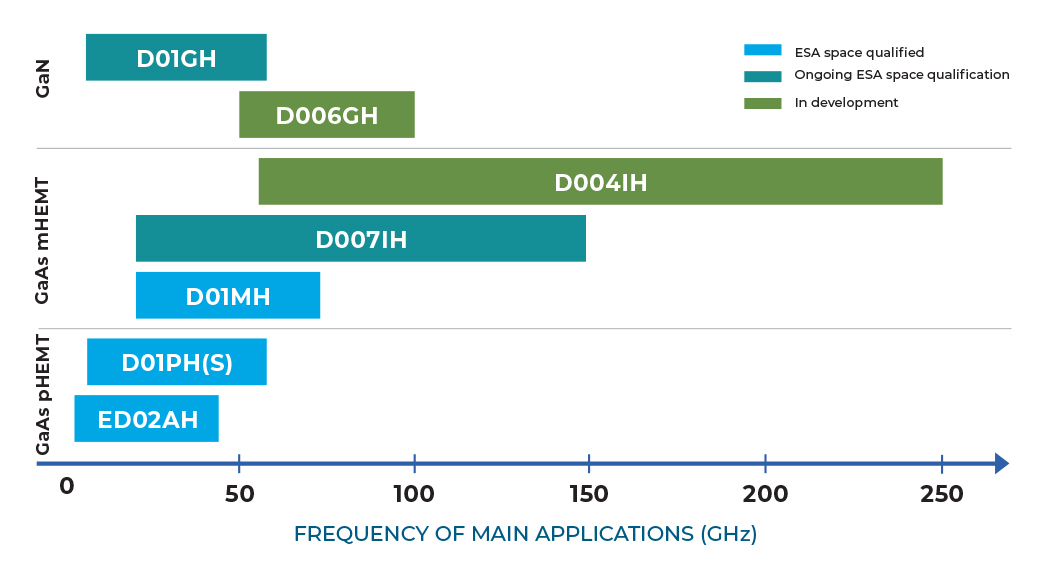 GaAs pHEMT Technology
ED02AH
ESA space qualified
Designed for application from 1 to 40 GHz
LNA, CoreChip, Mixer
D01PH(S)
ESA space qualified
Designed for application from 5 to 45 GHz
PA, LNA, Mixer, TWA
GaAs mHEMT Technology
D01MH
ESA space qualified
Designed for application from 20 to 75 GHz
LNA, Mixer
D007IH
Ongoing space qualification
Designed for application from 20 to 150 GHz
LNA, Mixer
D004IH
In development
Designed for application from 60 to 250 GHz
LNA, Mixer
GaN-on-Si Technology
D01GH
Ongoing ESA space qualification
Designed for application from 15 to 50 GHz
HPA, LNA, T/R Chip
D006GH
Ongoing ESA space qualification
Designed for application from 50 to 100 GHz
HPA, LNA, Switch